CHRYSALIS is a collaboration between Natalee Decker and Emma James, which traces Emma's experience undergoing Facial Feminization Surgery during the COVID-19 pandemic. It consists of three distinct phases, punctuated by video work, featuring sound design and spoken-word by Emma with visual accompaniment by Natalee. Each video flutters, mirroring the transgenger allegory of the metamorphic life of a butterfly. The visualization of the butterfly's evolution is venerated via software, from flat animated PNG to fully rendered 3D models, in flight and filled with light. The audio conveys a similar arc, beginning with a tone of crawling despair, followed by cocooning dizziness and dissociation and resolving with flight, tranquility, and the sweet nectar of self-love. Natalee and Emma's ongoing collaboration is grounded in love, care and the dynamic intersections of disabled, trans and queer experience.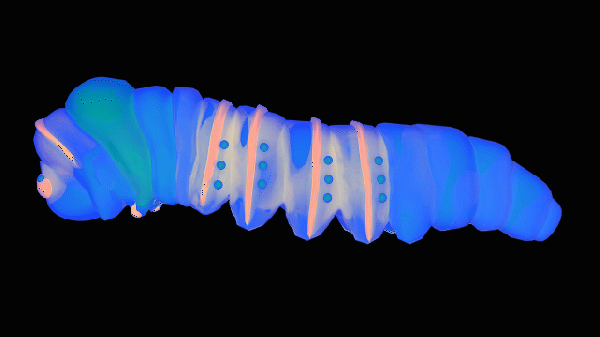 1.

WE APPRECIATE
YOUR PATIENCE,
PLEASE HOLD


2020
video with audio (5:20)
CW: contains flickering images
Emma was scheduled for facial feminization surgery on March 16th, 2020. As Los Angeles was entering the initial shelter-in-place and hours before she was to arrive at the hospital, her surgeon called asking to cancel the operation. Though postponement was the right decision, considering COVID-19 exposure and the allocation of a ventilator for the procedure, it was not made without grief. After waiting for over a year, this was the second time the procedure had been delayed – a setback which, combined with pandemic fatigue, strained Emma's mental health and well-being.
The following video is a visual accompaniment to a poem and musical composition written by Emma. Her writing reflects on personal experiences with trans identity, healthcare, mental health, daily routines and observations of an eroding state of normalcy. The musical composition utilizes minimal elements to emphasize a sense of tension and unresolve.
Somehow, CVS has my dead-name/ I can't use any of their online or app services/ They're unable to recognize me/Same as my cell phone//Heightened and prolonged grief//
We appreciate your patience, please hold…
For a number of years when I was younger, I would faint every time I would go into a doctors office/They closed the operating room//Dissociation//
We appreciate your patience, please hold…
During the fourth week of quarantine, I developed a crush on, Flick The chameleon,
A recurring character that visits my Animal Crossing island/No matter how many bugs I catch for them they always keep the conversation business// Self sabotaging thirst//
We appreciate your patience, please hold…
The last doctor visit I had pre- Covid lockdown was with a new specialist who I hoped would prescribe me something to help with scarring from electrolysis/ But, ultimately she would say, "So, what medications are you taking? Why would you take those? Oh, wait…I thought you were a girl When you walked in. What is electrolysis ?Why would you need facial feminization surgery? Well, you don't need it like some people do// Letting go of regret// 
We appreciate your patience, please hold…
I finally had a telehealth appointment with a psychologist/ I was diagnosed with bipolar manic depression/ Situations like these can make symptoms worse/ This is nothing new/ I'm glad that I can at least give it a name and understand my reactions to stimuli better// Not Quite Remembering Anything//
We appreciate your patience, please hold…
When I was in the hospital for a minor surgery, a nurse asked me if I wanted a pregnancy test/ I felt too drugged up to be witty or informative, so I just said no/ During the same visit a different nurse refused to use she-her pronouns when addressing me regardless of correcting them several times/with every piece of identifying information
telling her otherwise//Accepting the absence of control//
We appreciate your patience, please hold…
I've watched a lot of anime during quarantine/ There are so many various elements
that attract me to this style of storytelling and art medium/ I watched Serial Experiments Lain with a friend on Zoom/ The main character dissolves into cyberspace and experiences a higher level of consciousness/ Why won't the pharmacy call me back?//
Healing dysphoria// 
We appreciate your patience, please hold…
People tend to assign and address random names to me when they ask me mine/ Why people can accept uncommon names no one uses rather than accepting trans bodies
is beyond comprehension/ The most memorable name that someone imagined I said was Hemitt// I can't//
We appreciate your patience, please hold…
I haven't taken hormones in close to a week because my prescription was filled
with the wrong dosage/ The pharmacy didn't believe me/ I'm breaking out in random sweats/ I feel so on edge it's so hard to sleep/ I cry a lot for no reason// Never dreaming//
We appreciate your patience, please hold…
I was completely unaware that so many people enjoyed making bread/ Watching life grow slowly is something I practice during periods of my depression/ It's a way I can reconnect to time and my own internal clock/ Three basil plants, in my kitchen window,
were made from clippings I got from the grocery store//Developing a better self image//
We appreciate your patience, please hold…
A collaging and layering of video and animation clips with a musical soundtrack and computer generated voice reading a poem. Clips show a partially nude women completing a blue and pink bubble puzzle, placed on a white table, pictures of the ceiling corners of our apartment, animated butterflies, a wiggling warped square, and digital photogrammetry renderings of Emma posed topless on a stool. Pink, and baby blue are dominant colors, layered and transparent.
The soundtrack includes a tense and repetitive single-note bass line, accompanied by degraded samples of footsteps. A digital female voice recites the poem as music plays in the background.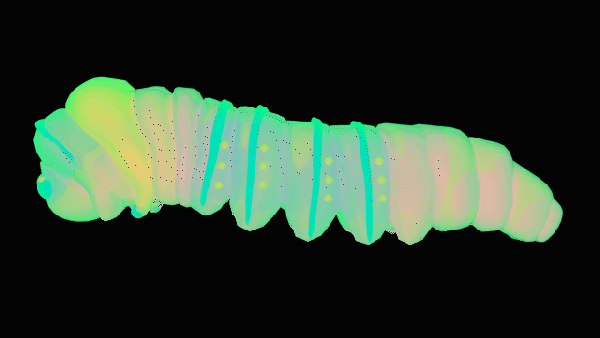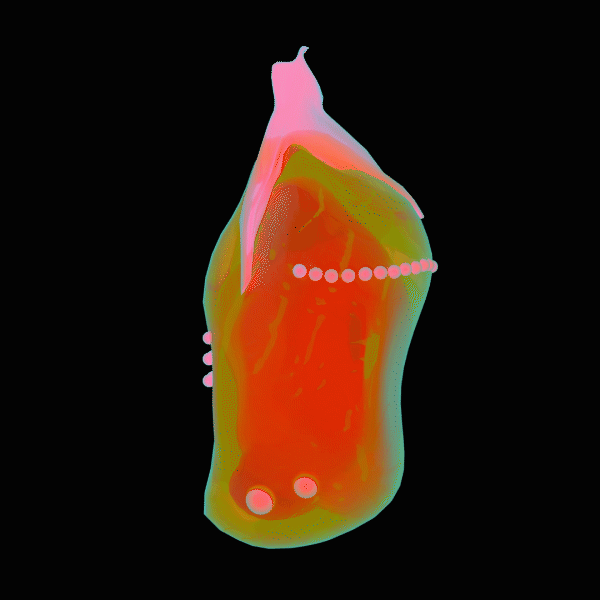 2.

NO ONE EVER
DEADNAMES
A BUTTERFLY
2020
video with audio (4:37)
CW: contains flickering images
This video is about Emmas post-operative experience as she recovered from facial feminization surgery during pandemic summer. The work draws on images of her environment, body and emotional landscape, during the two week quarantine directly after being released from the hospital. The poem leans heavily into the transgender allegory of a butterfly in chrysalis, while evoking a sense of delirium, claustrophobia, catharsis and physical transformation. 
Natalee has attempted to recreate the fever dream cocoon of bandages, collaging abstract insect swarms, wormy wriggling, glowing roses, mesh faces, dizzy spins around a glass butterfly and colors like dripping candle wax through hazy neon light. 
///I'm
really happy
so…///
///Don't sneeze or blow your nose for six weeks because your forehead could separate///
//90 Day Fiancé// Ice packs on rotation/ A handful of psilocybin mushrooms/ Tiny black boxes filled with CBD tabs scattered about the table/
Cases of La Crioux lining the wall//
///Stay out of the sun///
Gushing over babes with Sophia/ Spooning Lambo the dog/ Laying down on the driveway at night//
///Keep your head lifted at a fifteen degree angle///
Pillow wedge/Pea protein powder/ A pocket of fluid collecting on my forehead//
///Please don't bend over or pick anything up///
No one ever deadnames a butterfly/My cocoon of bandages/Humanoid cotton swab/Blood clot caterpillar slugs/ Blood stains on pillow cases/
Blood drips when I smile/ Who else can completely devour their body while in chrysalis?//
///Tape nose so it doesn't drift///
Various moisturizers/ I still can't feel the clumps of hair falling out/ I've never felt like she could ever be me/ This adult doll head that might be mine/
Devoid of tactile reciprocation/ My new plastic scalp held together with slowly eroding synthetic hairs which seethe under indirect water droplets/
Marine collagen/ I'm a gasping Magikarp at level nineteen/ learning how to drink while swallowing bundles of stitches that come from deep within my sinus cavity/
Time managing this surgical hook lure spooled with fishing line is all I can spreadsheet today//
///Only soft foods for 2 weeks///
2 different antibiotics twice a day/ 2 vape pens/ 2 syringes and a box of alcohol wipes/ 2 sets of compression bandages/
2 gallon water jug at arms length from the bed/ 2 cups equally caked with dried spirulina remnants/ 2 kinds of laxative stool softeners/
2 packets of dissolvable Vitamin C per day/ 2 week supply of opiates/ 2 weeks of quarantine/ 2 high to play Animal Crossing//
///Keep your face wrapped as much as possible to avoid swelling///
Eyebrows unaware of where they are/ Bromelain supplements when I can remember/ Facial expressions
that fall short of relating anything useful as quantum sensations telegraph between the temple and crown/ Chlorohexidine when my mouth tastes like wound/ Confessing deep affections to my crush// Interspeices Reviewers// Dates on Zoom// Married at First Sight// I almost fainted and threw up again//
///Don't even think about going in a hot tub///
//Naked and Afraid// Ice cream meals/ An unrelenting placid delirium/ Waking up at odd hours/ Falling down the stairs at three in the morning
with the glow of Candy Crush illuminating the room//
///Don't wear your glasses for a while because they'll leave permanent indentations///
Touching this face, is like touching a warm bag of raw chicken cutlets/ A warm center of purple busses that fade into a burnt yellow sunset//
///I'm really so…happy///
Video collage of abstract 3D butterflies growing out of a blank face, rotating radiating crystal orbs in a cocoon of colorful squiggles and roses, transparent morphing mesh faces all layered in transparent pinks and blues.
Emma recites her poem through heavily pitch and delay affected layers. A drum beat repeats throughout accompanied by swirling synthesizer tones.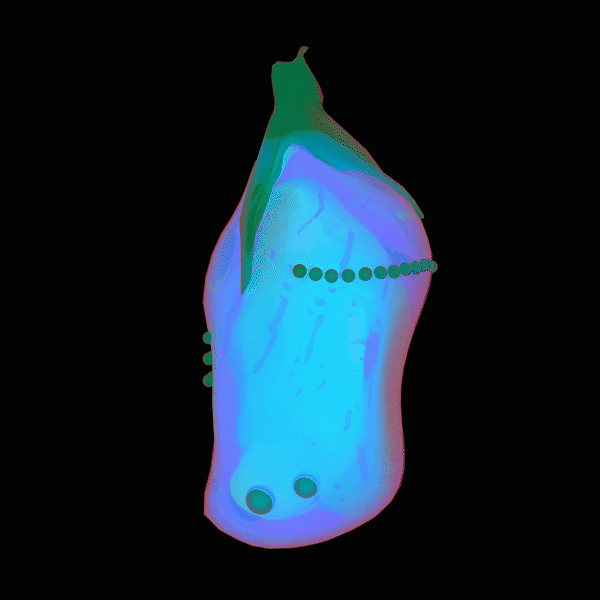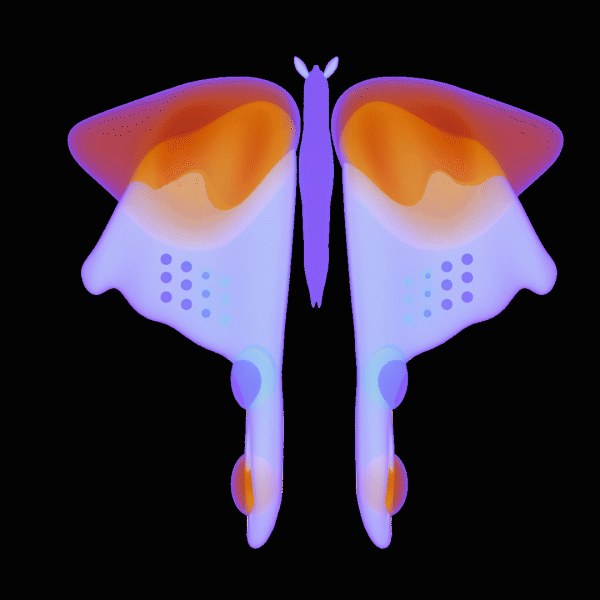 2021
video with audio (3:27)
CW: contains flickering images
Now Emma is a beautiful butterfly. She is happy.
Emergence – catharsis – tranquility
*butterfly kisses*
A collaged video featuring colorful glowing transparent CG models of caterpillars, cocoons, and butterflies, animated dancing butterfly body shapes, layers of transparent cocoon shells and boxes containing video of Emma doing her hair and putting on jewelry in the mirror
Video collage of abstract 3D butterflies growing out of a blank face, rotating radiating crystal orbs in a cocoon of colorful squiggles and roses, transparent morphing mesh faces all layered in transparent pinks and blues.